Product Description
WKF KARATE SHIN INSTEP / SHIN GUARD WITH INSTEP
The SMAI karate shin instep recognized by the WKF, are made with the exact specifications of the World Federation of Karate and approved for use in official nationwide, European and global struggles and WKF events without restrictions during the period 2016-2019.
The SMAI company is an official partner of the World Karate Federation and is proud of their careers with the world market of Karate.
The shin manufactured with exact size specifications and designs as required by the WKF, to ensure the safety of all athletes participating during controlled racing in small or elite levels.
The WKF shinguard of SMAI has also been tested by an independent body under the European Directive EN 13277-1 and EN 13277-2 as Cat II PPE, to ensure the safety of each side protection material as crash tests.
Made of PU
Removable instep protector
Official WKF logo on shinguard and instep
Can be used nationwide, European and World Games
Colors: Blue, Red
Sizes: S, M, L, XL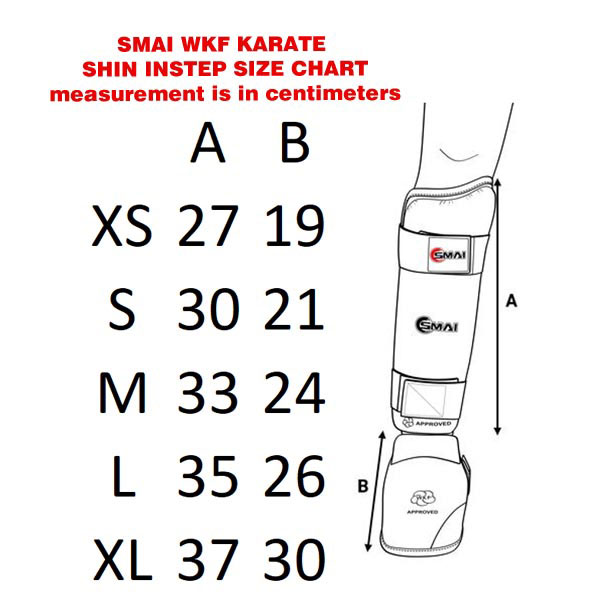 About WKF (World Karate Federation)

The World Karate Federation (WKF) is the largest international governing body of sport karate with over 130 member countries.[4] It was formed in 1990 and is the only karate organization recognized by the International Olympic Committee and has more than ten million members. The WKF organizes the Junior and Senior Karate World Championships, which are each held every other year. The President of the WKF is Antonio Espinos, and the headquarters are located in Madrid, Spain.[8] The styles recognized by the WKF are Gōjū-ryū, Shitō-ryū, Shotokan and Wadō-ryū.