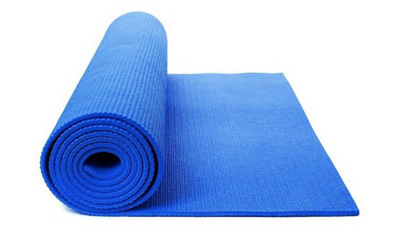 Today we all have become a part of healthy living, which includes staying fit and doing exercise. Exercise mats are beneficial to us in a lot of ways. They provide a comfortable space for us to work out and helps us avoid injuries.
Let me help you with some of the main reasons why to use an exercise mat.
Support and Safety
An exercise mat prevents us from getting injured, mainly if we exercise on a slippery or plain surface. Mats are also helpful when it comes to balancing and stabilizing our body. Choosing the right mat can ensure that our body is still no matter whatever pose or exercise we do.
Comfort
While exercising directly on the floor, one might face the issue with the knees, hips, and wrists. Using an exercise mat helps prevent this issue and allows extra padding between our body and the floor, giving us comfort.
Helps During Yoga
While performing different kinds of yoga postures, it is easier to do it with yoga mats or exercise mats which will help you have a firm grip and a stable surface. Some mats are non-slip, which is best for exercises where there might be a chance that you can slip your hands or feet a bit. It is also better to use a cushioned mat so that you don't end up damaging your spines, knees, or other parts of the body.
Cleanliness and Space
Many of us don't like getting ourselves dirty while exercising. In that case, using an exercise mat is always a good option. It is better to have an additional layer between the hard surface and our body. In case you are exercising in a group, a mat helps you give space to the other person near you.
Want to get an exercise mat for yourself? Visit Benzasports today to get your choice of sports goods at the best price.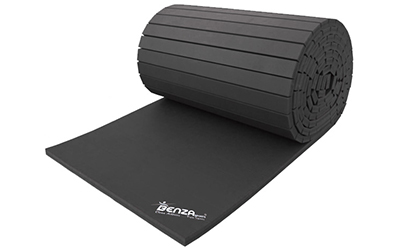 An experienced yogi, a circuit training fan, or anyone planning to do exercise at home needs an exercise mat. It is an incredibly versatile accessory, and only a few are suitable for exercise. Whether you plan to do toning exercises or gentle stretching, a suitable exercise mat will ensure that you do everything comfortably.
To choose a fitness mat or exercise mat, one needs to think about the type of activity they plan to do on it. And based on three main criteria-comfort, size and durability, choose the mat.
Comfort

The level of comfort while performing fitness exercise on the mat depends on its thickness.

The thickness of your mat depends on the kind of activities you will perform on it. For gentle exercises such as stretching or Pilates, a soft mat with at least 5 mm thick is sufficient. It will ensure optimum comfort and protect you from the floor.

Size

The size of your fitness mat plays an important to work out comfortably. The first thing you need to take into account is your height while choosing a mat and the activities you'll be doing on it. If you're doing exercises that involve frequently contacting the floor, choose a longer mat and if it includes being seated or kneeling, a normal length would serve the purpose.

Durability

The frequency with which you train on the exercise mat will influence its durability. Because the more you use it, the more wear out your mat goes through.

If you're one of those, who regularly uses fitness mat, get the one with a protective coating to improve its resistance in intensive workouts while wearing from sports shoes.
benzasports.ca has a wide range of Yoga, Pilates, and general purpose mats to fit in everyone's needs. Always check the care instructions of the exercise mat to avoid damage while cleaning.