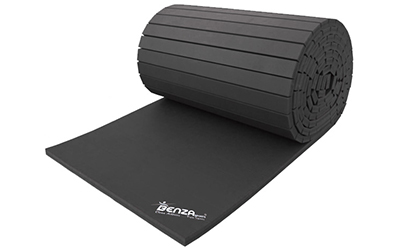 An experienced yogi, a circuit training fan, or anyone planning to do exercise at home needs an exercise mat. It is an incredibly versatile accessory, and only a few are suitable for exercise. Whether you plan to do toning exercises or gentle stretching, a suitable exercise mat will ensure that you do everything comfortably.
To choose a fitness mat or exercise mat, one needs to think about the type of activity they plan to do on it. And based on three main criteria-comfort, size and durability, choose the mat.
Comfort

The level of comfort while performing fitness exercise on the mat depends on its thickness.

The thickness of your mat depends on the kind of activities you will perform on it. For gentle exercises such as stretching or Pilates, a soft mat with at least 5 mm thick is sufficient. It will ensure optimum comfort and protect you from the floor.

Size

The size of your fitness mat plays an important to work out comfortably. The first thing you need to take into account is your height while choosing a mat and the activities you'll be doing on it. If you're doing exercises that involve frequently contacting the floor, choose a longer mat and if it includes being seated or kneeling, a normal length would serve the purpose.

Durability

The frequency with which you train on the exercise mat will influence its durability. Because the more you use it, the more wear out your mat goes through.

If you're one of those, who regularly uses fitness mat, get the one with a protective coating to improve its resistance in intensive workouts while wearing from sports shoes.
benzasports.ca has a wide range of Yoga, Pilates, and general purpose mats to fit in everyone's needs. Always check the care instructions of the exercise mat to avoid damage while cleaning.